Last Updated on October 11, 2021 by Cristina
Stall mats are a great way to provide additional comfort for your horse. The best stall mats for horses will offer cushion and support, which is particularly great for barns with concrete flooring. They also provide traction while helping prevent fatigue.
If your horse lives in a barn, whether full or part-time, stall mats are always a good idea. Not only do they help with comfort, but they can also be beneficial for drainage. Though they can be expensive, they are well worth the investment for your horse.
How To Choose A Stall Mat For Horses, What To Consider
When choosing a stall mat, you will want one made of durable rubber or a similar sturdy material. Since a horse will stand, walk, lay and roll on the mat, it must be able to withstand wear.
There are different styles of stall mats including a large individual mat, pavers, and square pieces. Stall mats are also heavy, often several hundred pounds, which can make installation difficult, so it is best to have help from others.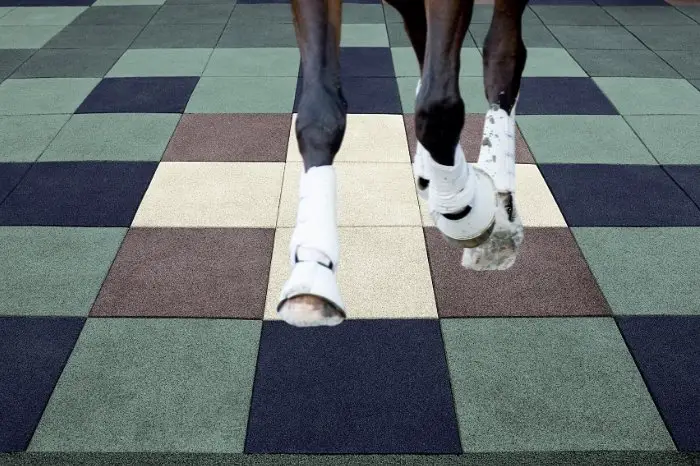 What Are The Advantages Of Stall Mats
Stall mats provide safe, comfortable, and hygienic flooring. The cushion provides support for your horse which helps prevent soreness and discomfort in your horse.
Stall mats also make cleaning your horse's stall easier. They prevent urine and poop from soaking in and leaving to unhygienic circumstances. They prevent the flooring from getting too cold during winter and too damp during the summertime.
In addition, stall mats are also slip-resistant which makes for a safer environment for your horse. They also create a more level surface which can help prevent tripping. Their simplistic designs also work to help with drainage.
Stall mats will also save money on bedding. You won't need to use nearly as many shavings, as the mat will provide the cushion. This also makes them more environmentally friendly, as they last for years and reduce waste.
Mats are also washable, making them easy to maintain. Simply spray them down with a hose to keep them clean and if needed use mild soap. Before washing, you can easily sweep away any shavings with a broom.
Check Out Best Fly Spray For Horses
What To Look For When Choosing A Stall Mat
When choosing a stall mate for your horse, look for one that is at least 3/4 inch in height. You don't want to use any mats that are thicker than two inches, as they become too large and bulky, making them difficult to lay.
Look for mats that are interlocking and fit together tightly. You don't want any gaps as this can cause you or your horse to trip and will mess up the drainage.
 What Is The Best Way To Use Stall Mats
Stall mats should be installed into a clean, dry stall. Make sure to carefully measure out the stall before buying the mats to make sure you get the right amount. You want the mat to take up the entire size of the stall.
Once your mat is carefully laid out, you can add the bedding to the stall. In addition to putting the mats in horse stalls, you can also add them to wash racks and even horse trailers. The best horse stall flooring will be easy to install and remove.
Read more about Best Horse Feed
Prerequisites To Using Stall Mats
Generally, stall mats are easy to install and maintain. Stall mats that are 2 x 2 feet are often a good option for using in stalls of different sizes. You can also use 4 x 6 or 12 x 12 feet mats, however, 12 x 12 are often difficult to use ad they are so big.
Best Stall Mats For Horses
This heavy-duty mat is made from recycled tire rubber, making it environmentally friendly. The 3/4 inch thickness is the ideal size for horse stalls. It has a high-traction top surface which provides excellent grip whether indoors or outdoors.
Pros:
Available in 2ft x 3ft, 3ft x 4ft or 4ft x 6ft.
It is anti-slip and anti-fatigue.
The coarse underside allows it to stay in place.
Con:
These mats are made from high-density EVA foam that is built to last. The interlocking design prevents water from leaking through and all creates an even surface. The textured design creates a non-slip surface that your horse will appreciate.
Pros:
Interlocking design allows for easy assemble.
Lightweight and ideal for taking to horse shows.
Durable, waterproof, and easy to clean.
Con: 
They may smell a bit when you first get them.
This ultra-durable Grade A rubber mat is made from recycled rubber tires. They are able to withstand tough conditions while also providing cushion. They are available in smooth or a diamond plate pattern, so you can decide if you want them with texture or not.
Pros:
Versatile mat with many different uses and easy to install.
Anti-slip and anti-fatigue.
Available in smooth or diamond plate.
Con: 
They are a bit expensive and heavy.
These mats are made from EVA high density and safe foam that is non-toxic. The anti-skid textures and shock-absorbing surface create a safe environment for your horse. With a 3/4 inch thickness, they are a great option for use in horse stalls.
Pros:
The interlocking design is easy to install and great for travel.
Anti-skid and shock absorbing.
Environmentally friendly, waterproof, and easy to clean.
Con:
They can be a bit on the pricey side for mats.
These high-quality rubber mats are able to hold excessive weight while also preventing wear and tear. The grip and groove pattern helps prevents falls not only in horses but also in people as well. They are easy to install and are a versatile mat great for barn uses.
Pros:
They are 3/4 inch thick and 4 x 6 feet.
Prevent slipping and fatigue.
Easy to install and maintain.
Con:
Don't have an interlocking pattern which some prefer.
Conclusion
Though these rubber mats for horse stalls are all great choices, the Rubber-Cal Shark Tooth Heavy Duty Mat is the best option. It is environmentally friendly, as it is made entirely from used rubber tires. Unlike the other mats, it can be used in outdoor settings as well as indoor.
The coarse underside of the mat helps keep it in place. The anti-slip and anti-fatigue design will keep your horse comfortable and happy.