Last Updated on January 16, 2022 by [email protected]
In order to keep your horse healthy and happy, it is important to provide them with a healthy diet. However, it can overwhelming trying to find the best horse feed for your equine companion as there are many options. You want to make sure you choose the option that is the best for your horse.
Whether your horse is an athlete or senior, there are specialty feeds on the market available to meet their needs. They contain the essential nutrients, vitamins, and protein. The right feed will help your horse maintain a healthy, balanced lifestyle.
How To Choose Horse Feed, What You Have To Consider
There are several factors to consider when choosing the right feed for your horse. Factors including age, weight, activity level and dietary/health concerns all play a role in finding the diet that is ideal for your horse. For example, a high-performing show horse has different nutritional needs when compared to an older, retired horse.
There are several different varieties of horse feed on the market. They include performance, senior, mare & foal, gastric care, active, pleasure, competition, weight control, and low starch, among others. Each of these consists of special formulas in order to meet those particular needs.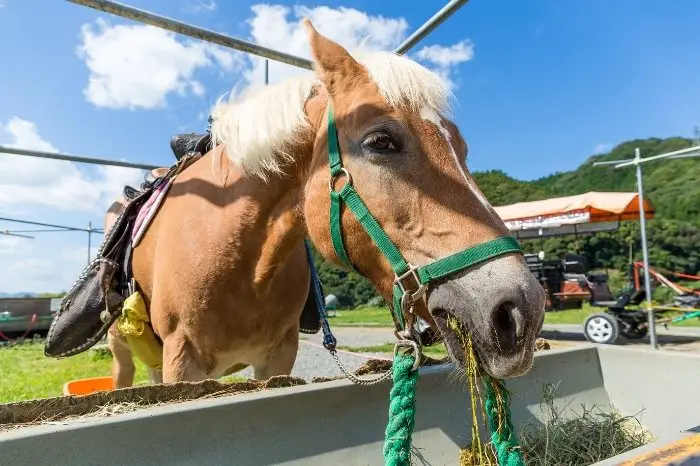 Before choosing a feed for your horse, it is best to consult with a veterinarian to see if your horse has any special dietary needs. A veterinarian can help you find a proper diet based on your horse's individual needs.
What Are The Advantages Of Feeding Your Horse Specialized Feed?
Though horses can often do fine off of just grass or hay, adding feed to their diets can be beneficial. The right feed can give horses a glowing coat, healthy gut, and energy to meet their daily needs. It helps horses perform at their highest level, no matter what discipline they do.
They contain vitamins, minerals, proteins, or fats that can play a role an important role in the balanced diet of a horse. However, though they can be beneficial, grain and other feeds should be fed in moderation. Not only can too much feed cause weight gain, but it could lead to other problems such as colic, founder, digestive problems, and other issues.
Things To Look For When Choosing A Horse Feed
When looking for a horse feed, consider your horse's age, work level, and any special dietary needs. In most cases, they will have a protein content of 14-16%, which is typically ideal for adult horses. Look for an option that will cater to the needs of your horse.
You may wonder, what is the best horse feed on the market? Some of the best horse feed brands include Purina, Manna Pro, Triple Crown, Tribute, Nutrena, Modesto Milling and Hallway Feeds.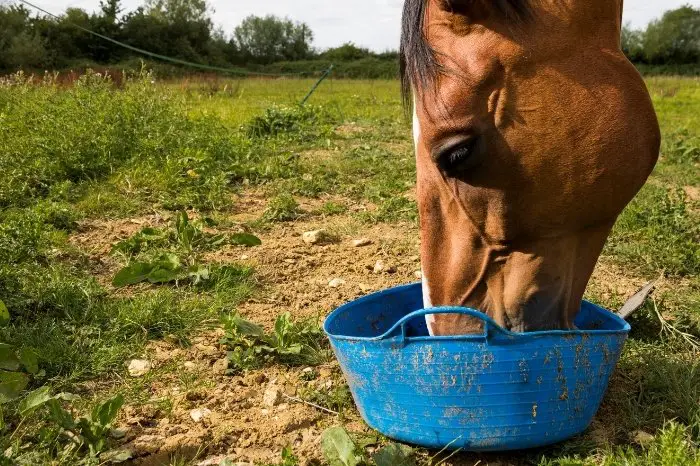 They offer high-quality feeds that have been created by nutritional specialists. These brands offer a variety of feeds to meet the lifestyles of different horses.
Commercial and complete horse feed brands generally come as a sweet or "textured" feed or pelleted. Textured feeds generally consist of a mixture of grains, vitamins, and minerals in pellet form and a bit of molasses.
Pelleted feeds, on the other hand, include ground grains that are then combined with additional nutrient sources and ingredients that are then pressed into a pellet form.
Pelleted feeds often contain grains such as corn, oats, wheat, wheat products, and barley. In addition, they can also have some forages such as alfalfa and fiber, such as beet pulp.
Read more about What Is A Gelding, Mare Or Stallion?
What Is The Best Way To Feed Horse Feed?
Typically, you should be feeding grain or other types of feed just once to twice a day. A horse should never be fed more than four to five pounds of feed at one feeding.
The amount of feed you give your horse will depend on the individual. Older and inactive horses will need less feed than younger and high-performance horses.
After you have purchased a feed, you can follow the feeding guidelines on the bag. They can help you figure out the proper amount of feed for your horse.
A horse's main source of food should be high-quality forage. Feed should always be given in proper-sized portions and horses should never be able to have free access to grain, pellets or other types of feed.
Check Out How To Measure The Gullet Of An English Saddle
What To Know Before Giving Your Horse Feed
Before giving your horse feed, figure out the individual needs of your horse. If you need help, consult an equine professional or veterinarian.
Best Horse Feeds
Kalm 'N Ez is specially formulated for horses that are hard keepers. The higher fat, highly digestible fiber will keep your horse calmer without losing energy or condition. It provides an optimal balance of essential amino acids, fatty acids Omega 3 and 6, and antioxidants to help promote healthy muscle growth, a healthy coat, and a healthy immune system.
Pros:
No corn or molasses helps keep NSC levels low.
Ideal for hyperactive horses or horses with insulin resistance, laminitis or ulcers.
EquiFerm XL improves overall gut health.
Con:
It can be on the pricey side.
This versatile feed is a great option for horses of all ages and experience levels. It offers balanced nutrition, added fat, and high-quality protein. This feed is highly digestible and horses find it naturally palatable.
Pros:
Amino acids support muscle performance.
Provides sustainable energy and a shiny coat.
Supports bone strength along with immune and reproductive function.
Con:
Can be pricey when ordered online.
This well-balanced feed offers low NSC and low-calorie intake, which is fitting for horses with metabolic conditions. The dense nutrient content makes it a low-cost option while providing crucial nutrients essential for a healthy gut and coat. The addition of essential amino acids allows for growth and muscle maintenance.
Pros:
EquiFerm XL improves gut health.
Ideal for growing, working, and performance horses of all ages.
Biton promotes healthy and strong hooves.
Con:
This horse feed is entirely soy-free, which is ideal for horses with special diet needs. It is made of a nutritious blend of seeds and vegetables. The addition of beet pulp and sweet potatoes promotes a healthy gut.
Pros:
Includes essential vitamins, minerals, and amino acids.
High in fat.
Ideal for active and performance horses.
Con:
This product is specially formulated for moderately active senior horses. It helps support a horse's weight while keeping them fit. It is highly digestible with Purina's unique Prebiotic technology, helping to support gut health.
Pros:
Controlled starch and sugar formula.
High in fat and fiber.
Full of vitamins and minerals.
Con:
It is on the expensive side.
Conclusion
Though all of these feeds provide excellent nutrition for your horse, the best overall option is TRIBUTE Kalmbach Feeds Essential K for Horse. Compared to the other feeds, it is the most versatile option, as it is ideal for horses of all ages and activity levels. It promotes a healthy coat, gut, and hooves, with crucial nutrients.
Essential K is a low-cost option compared to some of the other choices while being a low NSC and low-calorie option. It promotes maintenance and muscle growth for growing, working, and performing horses.