Last Updated on October 10, 2021 by Cristina
Flies can be a big nuisance to horses during summertime. Fortunately, the best fly spray for horses can help keep these annoying pests at bay. They often also protect horses from other irritating bugs such as gnats, mosquitoes, and ticks.
Fly spray is a must-have at any horse barn. It will keep your horses comfortable and happy, as it helps keep flies away. You want to make sure you have a quality brand of fly spray that will actually work, as otherwise, you are just wasting your money.
How To Choose Fly Spray For Horses, What To Consider
When choosing a fly spray for horses, you want to make sure to select one based on your horse's needs. Some horses are more sensitive than others, so some fly sprays may cause irritation.
There are different types of fly sprays on the market to meet the needs of different horses. All-natural fly sprays are a great option for horses with sensitive skin as they often contain essential oils such as citronella, lemongrass, thyme, and rosemary. In addition, they are free of harsh chemicals that may cause irritation in certain horses.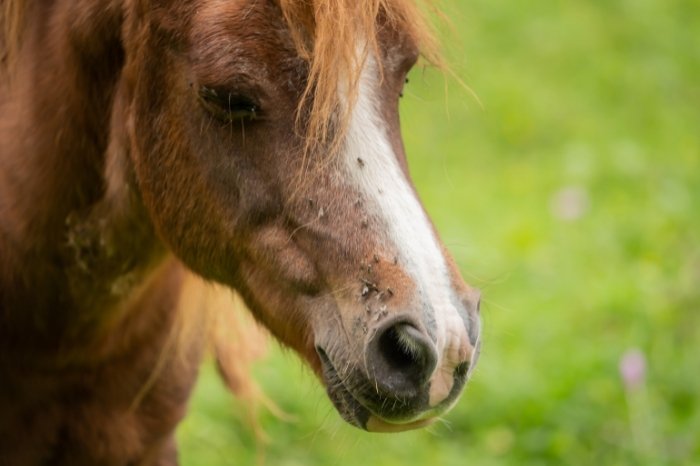 Sweat-resistant fly spray is great for performance horses that get ridden on a regular basis. It is designed to work on horses even when they are sweating.
Find Out What Is The Average Jockey Height and Weight?
Advantages Of Using Fly Spray-On Horses
Fly spray works to stop flies from bothering your horses and biting them. Flies can cause irritation when they bite and are an overall nuisance to horses.
Horseflies in particular can be extra problematic, as their bites can be painful. This can cause some horses to bolt, buck, or rear to get away from them, which can be dangerous when riding.
Not only does fly spray help with different types of flies, but it also works on other biting insects. It can keep ticks, gnats, mosquitoes, and lice.
Read more about Best Ulcer Treatment For Horses
What To Look For In Fly Sprays
Fly spray comes in either water or oil-based formulas. Both types work well to repel flies, though some people have preferences of one over the other. For horse fly spray that actually works, look for reliable brands such as Farnam, Absorbine, and Pyranha.
Oil-based fly sprays generally work efficiently and quickly to keep flies away. When applied, the bugs can suffocate or in some cases drown in the oil. However, the disadvantage of oil-based fly spray is that it attracts dust, so it is hard to keep your horse clean.
Water-based fly spray does not attract dust, so it is easier to keep your horses clean. It is a great option to use if you show, as you don't have to worry about dust accumulating on your clean horse. Certain water-based formulas are even all-weatherproof, which is ideal for horses that live outside.
Check Out How To Measure The Gullet Of An English Saddle
What Is The Best Way To Use Fly Spray?
Fly spray should be applied all across a horse's body. However, you should be careful to avoid getting it in the eyes, nose, or mouth. For best results, apply fly spray to a clean, dry horse before turnout, exercising, or as needed.
Depending on the type, you will need to reapply daily or every 7-14 days. Always be sure to read the instructions on the bottle before spraying it on your horse.
Prerequisites To Using Fly Spray On Your Horse
When using fly spray on your horse, only apply it to a small patch of skin first. Wait at least 20 minutes to see if your horse has an adverse reaction before using it on your horse's entire body. If the horse spray for flies causes irritation in your horse, do not use it.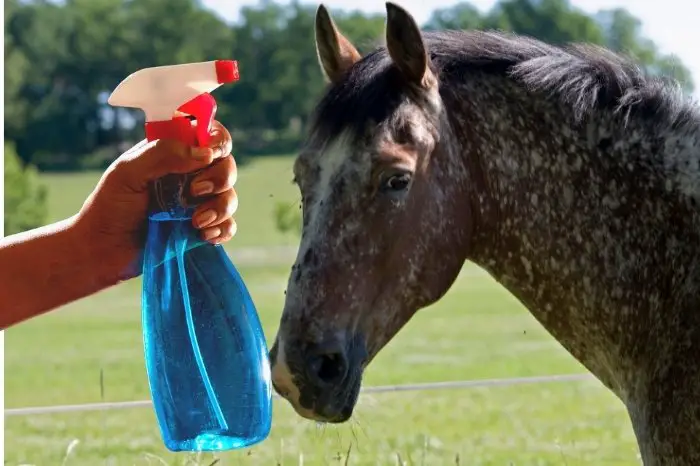 Best Fly Sprays For Horses
Ideal for performance horses that are regularly ridden, this fly spray continues to work as your horse sweats. It provides up to 14 days of protection against flies, gnats, ticks, and lice. The unique RepeLock conditioner binds to the hair to not only repel but also kill irritating biting insects.
Pros: 
Ideal for hot, humid, damp, and wet conditions.
Includes sunscreen to protect your horse from harmful UV rays.
Long-lasting and effective against and effective against several types of biting insects.
Con:
It is on the expensive side.
A favorite among show horse owners, this fly spray creates a high sheen on a horse's coat when brushed in. It works against irritating biting flies, mosquitoes, gnats, fleas, and ticks. Simply spray it on a clean cloth and rub it on your horse after brushing.
Pros:
Contains lanolin which is beneficial as a coat conditioner for your horse.
Has a pleasant citronella scent.
Kills and repels biting insects.
Con: 
It is on the pricey side.
This powerful water-based formula kills and repels over 70 species of flies, mosquitoes, ticks, and gnats. The innovative formula lasts up to 17 days and is even waterproof. It even contains multiple sunscreens and coat conditioners to keep your horse protected from UV rays while also having a healthy coat.
Pros: 
The long-lasting formula works in all types of weather.
Protects against many nasty biting insects on horses and even dogs.
Contains sunscreen aloe and lanolin.
Con:
It is a more expensive option.
This powerful, quick working water-based formula works against flies, gnats, mosquitoes, and ticks. It works for up to 14 days to keep your horse protected from insects. To keep your horse safe from harmful UV rays, the spray includes sunscreen.
Pros:
The long-lasting formula kills and repels annoying insects.
Uses pyretherine and cypermetherin.
Sunscreen provides additional protection.
Con:
This all-natural fly spray is a wonderful alternative to traditional options that contain chemicals that can be irritating to some horses. The combination of citronella with other botanicals works to fight off flies, mosquitoes, and gnats. It has a fresh, pleasant smell and it won't irritate sensitive skin.
Pros:
Ideal option for horses with sensitive skin.
Has a pleasant, natural smell that is free of chemicals.
Effective at fighting off flies, mosquitoes, and gnats.
Con: 
Needs to be reapplied more often.
Conclusion
Though all these fly repellents for horses, the Farnam Endure Sweat-Resistant Fly Spray takes the cake as the best option. Unlike the other fly sprays, it contains a RepeLock conditioner that binds to the hair for long-lasting and effective protection. In addition, it is also sweat-resistant, which is ideal for horses that regularly get ridden.
The Endure also has the capability to last up to 14 days. It even includes sunscreen in the formula to keep your horse safe from the sun.