Last Updated on November 1, 2021 by [email protected]
When it comes to horseback riding, safety is important. Fortunately, the best horse riding helmet can help you rest assured that you are safe. Your safety is not something you want to cut corners with, so you want to make sure you wear a high-quality helmet.
No matter the discipline you ride, wearing a helmet is always a good idea. They can protect you from serious injuries and even potentially save your life. No matter your age or experience level it is a good idea to own one.
How To Choose A Horse Riding Helmet, What You Have To Consider
When choosing a helmet for horseback riding, be sure to choose one specifically designed for that purpose. Not all helmets are the same, so it is important to get the right type. For example, bicycle helmets are not designed to be worn while horseback riding.
When helmet shopping, look for ones that are American Society of Testing Materials (ASTM) and Safety Equipment Institute (SEI) approved. This means that you are receiving a quality product that is designed to protect, as in order to receive those approvals, they must undergo multiple safety tests.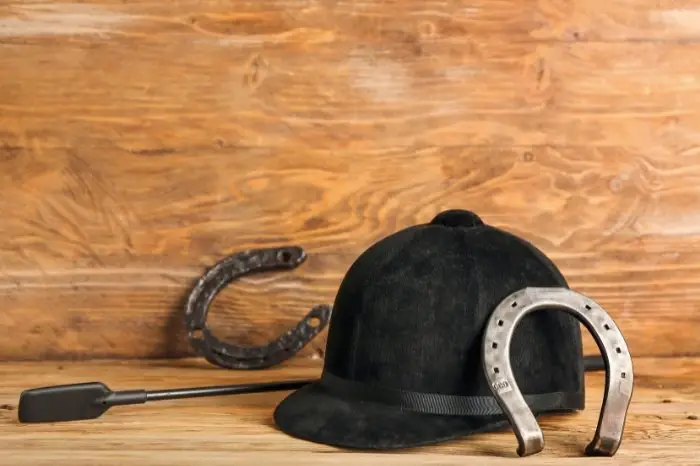 Advantages Of Wearing A Helmet
On average, between 24%-61% of horseback riding injuries occur on the upper part of the body, including the head. Helmets have the ability to reduce head injury by 70-80%. Simply put, wearing a helmet could not only prevent an injury, but it could potentially save your life.
Read more about Difference Between A Mule And A Hinny Explained!
Things To Look For In A Riding Helmet
The safest horse riding helmets will consist of a plastic or fiberglass outer casing, an internal fabric lining, and foam padding, along with a styrofoam or polystyrene liner. These factors make the best horseback riding helmet that is sturdy, reliable, comfortable, and safe.
In addition, to ensure the helmet works to its full extent, you need to make sure that it properly fits. Before buying a helmet, make sure to measure your head to find the right size. Some helmets will even have dials in the back so you can adjust the fit to your head.
There are five main types of horseback riding helmets: velvet hats, jockey skull, polo, premium, and kids. Within the different styles, there are various finishes including gloss, matte, pinstripe, leather-like, sparkly, velvet, and suede, along with various colors.
If you live in a warmer climate, you can benefit from a helmet with ventilation holes and moisture-wicking mesh lining. You will appreciate these features when riding on warm summer days. These features can help you to prevent overheating, as they provide airflow.
Check Out Best Halters For Horses
Proper Way To Wear A Helmet
Sizing is key to how well a helmet will work. To find what size helmet you need, use a measuring tape to measure the distance around your head one inch above your eyebrow. You don't want it to be too tight or too loose as that will be uncomfortable for your head.
Your helmet should fit snuggly on your head. If it is able to move while you roll your head in a circular motion, then it is too loose. The chin strap should fit so you can fit snugly just under your chin and touch the bottom of your earlobes.
Fing Out Best Stall Mats For Horses
Prerequisites To Wearing A Helmet
You should opt to wear a new helmet that meets ASTM/SEI standards. Never use a helmet if it is damaged, as it will no longer provide proper protection. If you show, read the rules specific to your breed/discipline to find out the appropriate helmet for your discipline.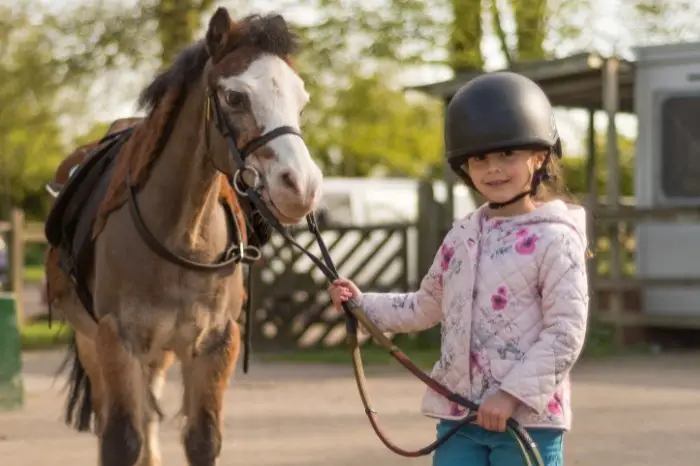 Best Horse Riding Helmet
This practical helmet is a great option for riders of all experience levels and even comes in multiple colors. It features an easy-adjust dial to allow for a secure, personalized fit. High-flow vents and a removable mesh lining help keep you cool and comfortable.
Pros:
ASTM/SEI certified.
Includes a removable visor, vents, adjustable dial, padding, and mesh lining.
Sleek design with a comfortable build.
Con:
The visor may become loose over time if regularly removed.
This sleek helmet features a low profile with a matte finish and fun, unique designs. The SureFit Pro system allows for a comfortable and secure fit to your head and the FlipFold System adjusts to fit different hairstyles and head shapes. With mesh-covered vents, you will stay cool no matter the weather.
Pros:
ASTM/SEI certified.
SureFit Pro and FlipFold systems provide a secure, adjustable fit.
Mesh-covered vents and a washable headliner keep you cool.
Con:
This helmet tends to run small.
This lightweight and cool helmet is perfect for hitting the trails. It features a washable mesh lining and air vents for ideal breathability. The extended visor provides additional protection from the sun.
Pros:
ASTM/SEI certified.
SureFit Pro provides a comfortable and secure fit.
Features beautiful design options and an extended visor.
Con:
This helmet tends to run small.
With a lightweight, low-profile design, this is a great all-around helmet with lots of ventilation. The adjustable dial allows you to achieve just the right fit for your head shape. With an extended back shell, you have additional protection.
Pros:
ASTM/SEI certified.
Includes a removable mesh liner and lots of ventilation.
The extended back shell and adjustable dial allow for ideal protection.
Con:
Not a practical option if you want a larger visor.
This sleek helmet is a great option for showing. It features snap-in liners so you can create a custom fit for your head. The unique comfort harness is designed to eliminate pinching on the neck and make room for a ponytail.
Pros:
ASTM/SEI certified.
Fits comfortably thanks to the comfort harness, moisture-wicking lining, and ventilation.
Snap-in liners allow for a custom fit.
Con:
It is a more expensive option.
Conclusion
Though these are some of the best safest horse riding helmets, the best equestrian helmet is the Ovation Equestrian Deluxe Schooler. Unlike the other helmets, it has an easy-adjust dial for a secure and custom fit. It is a great overall schooling helmet that is safe, comfortable, and durable, with a sleek build, ventilation, and padding.