Last Updated on October 10, 2021 by [email protected]
One of the first things people often buy when purchasing a horse is a halter. The best halters for horses are comfortable, durable, and practical. They should properly fit your horse so they don't rub or easily come off.
Halters vary by size and style. In addition, they come in many different colors and designs, allowing you to have some fun when choosing one out. It is important to choose a high-quality halter as safety is very important when working with horses.
How To Choose A Halter, What You Have To Consider
When choosing a halter, one of the most important factors is fit. You want to make sure that is not too loose where your horse can easily get off or too tight where it can cause rubs and be uncomfortable. Oftentimes, halters will come in mini/pony, foal, yearling, cob or Arabian, standard horse or warmblood and draft sizes.
In addition to size of the halter, you also have to consider the style. The different horse halter types include nylon, leather, breakaway, and rope. Each type has its own benefits and one style of halter is not necessarily better than another.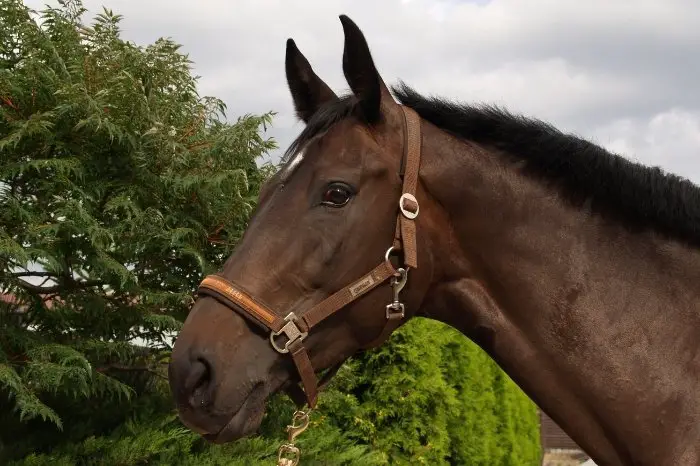 What Are The Advantages Of Using Different Types Of Halters
The most common type of halter is the nylon style. They have a durable build while being comfortable for your horse. You can even get them in a variety of different colors and styles.
Leather halters are another common option. They are durable and also look good, making them a popular option for use at horse shows. Leather halters should regularly be cleaned and conditioned in order to keep them in good condition.
Breakaway halters are a popular option for use during turnout and trailering. They feature a nylon halter with a leather crownpiece that will break cleanly under undue pressure. The leather crownpiece can easily be replaced if need be.
Rope halters are a popular option for natural horsemanship. Unlike the other types of halters that include hardware, rope halters are made only of rope. They have knots in specific pressure areas in order to communicate different cues.
Check Out How To Measure The Gullet Of An English Saddle
Things To Look For When Choosing A Halter
When choosing a halter, look for one with high-quality brass or chrome-plated hardware, if applicable. When selecting a leather style, choose soft, supple leather that is durable.
It is also beneficial to have a throat snap for ease of use. An adjustable nosepiece also allows you to get a custom fit for your individual horse. The best halters for horses should have clean, hardy stitching that is free of any frayed ends.
Read more about What Is The Average Jockey Height and Weight?
Best Use For Halters
Halters should be used for leading horses, cross ties, lunging, and trailering. If the proper precautions are taken, halters can be worn by horses during turnout in the right circumstances.
In addition, some people may use a halter over the bridle when they are out trail riding for safety reasons. A halter is not meant to be left on a horse at all times.
What To Know Before Using A Halter On Your Horse, How It Should Fit
Before choosing a halter, make sure to measure your horse to find out their size. You will need to measure for the crown piece, nose piece, cheekpiece, throat piece, and chin piece. This will help ensure you find a size that will fit your horse's conformation.
A halter should fit comfortably on your horse, but not be too tight. The crownpiece should lay behind the ears on the poll, but should not pinch.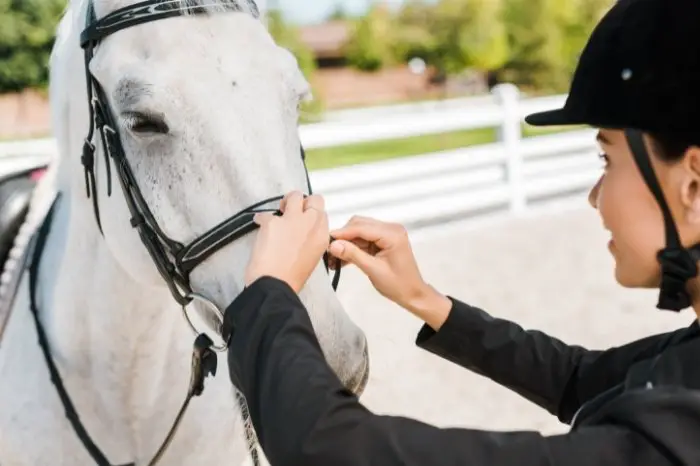 The noseband should not be loose enough where the horse could get a hoof or other object stuck in it, but it should be loose enough for a horse to freely breathe and chew. You should be able to fit two to three fingers between your horse and the niseband. The noseband should sit about halfway between the horse's eyes and nose.
The throatlatch should sit where the neck meets the jowls. You should be able to fit three to four fingers between the throatlatch so your horse can breath and chew, but so a hoof can't get stuck. The cheekpieces should fit parallel to the cheekbones.
Best Halters For Horses
This hardy nylon halter is a great all-around option for your horse. It is available in three fun styles that will look adorable on your equine companion. It features an adjustable noseband to allow for a secure fit, as it is available in many different sizes.
Pros:
Has sturdy brass plated hardware including a throat snap.
The rolled throatlatch is extra comfortable.
The box-stitched stress points add strength.
Con:
Colors can fade over time if exposed to the sun on a regular basis.
As the best rope halter on this list, this halter is made from sturdy 3/8″ poly rope. It is carefully hand-knotted to create distinct pressure points for communicating with your horse. It is available in 20 different beautiful colors, allowing you to choose a color that compliments your horse.
Pros:
Includes a double noseband and crownpiece.
Includes a lead rope that can be removed.
Easily adjustable.
Con:
Is not ideal to use with cross ties or trailering.
This beautiful sturdy leather halter is ideal for horse shows or everyday use. As the best leather halter on this list, it has soft, supple leather and hardy brass hardware. The leather is triple stitched and includes a rolled throatlatch for comfort.
Pros:
Includes an optional engraved nameplate.
Can be padded for additional comfort.
Handmade and adjustable.
Con:
Requires regular cleaning and conditioning.
This durable leather halter includes a padded noseband and padded crown piece for additional comfort. The padding is made of PVC-coated foam rubber padding. It includes an adjustable noseband and throat snap.
Pros:
Includes durable chrome-plated hardware.
Has a flat throat design.
Comfortable for horses of all sizes.
Con:
The rubber padding should be regularly cleaned as sweat and dirt can build up.
This breakaway safety halter keeps horses safe if they spook while tied up or get stuck. The leather crownpiece will cleanly break if under undue pressure. It includes a rolled throatlatch for comfort and come in nine different colors.
Pros:
Quality leather crownpiece.
Heavy-duty brass hardware.
The quality box-stitched stress points make it extra strong.
Con:
This halter tends to run large.
Conclusion
Though these comfortable horse halters are all high-quality, the Weaver Leather Adjustable Patterned Nylon Horse Halter is the best overall option. It is made from high-quality durable nylon. Unlike the other options, it has the most adjustability and comes in the largest range of sizes.
It is an all-around reliable halter great for horses of all kinds. It is built to last while also keeping your horse comfortable.