Last Updated on July 2, 2022 by Guillermina
Do you want to purchase the best boots for riding horses? Look no further! Here are all the tips you need!
When you're riding a horse, wearing the proper shoes is essential. Like any other sport, horse riding comes with its own set of equipment, and boots fall in this category. The style, material, and type of boot you buy should be based on what you need and not necessarily on what you like. 
In this article, I share what great choices are available and what you need to consider when buying riding boots. 
The Best Boots For Riding Horses: Material And Style
Choosing the best boots for horseback riding may seem a bit challenging. Knowing the riding style you'll require boots for will help you select an excellent pair. 
The boots you need for dressage differ from those you should wear when pleasure riding. Here are some other factors to also consider:
Safety: Your riding boots must have a solid heel and be closed over the toes. Horses are heavy animals and can seriously hurt you if you aren't wearing the proper boots. Boots also prevent your foot from sliding through stirrups and accidentally getting caught.  
Material: There are many materials to choose from when a riding boot is made. You should have boots made from a material that suits your style and comfort level. Rubber and leather are popular choices, and synthetic leather also works. Consider the weather and other common environmental conditions you'll need to face while riding. Insulated boots will help you if you're facing mud and snow, while boots made from a breathable material are your friend in hot weather!
Cost: When it comes to horse riding boots, the saying that you get what you pay for is true! Spending more on your boots is better to ensure they're safe, suited, and comfortable. Cheap boots won't last long, so consider investing in quality boots if you've reached your full foot size. Children quickly outgrow their shoes, and more affordable options are available for them. 
Style: There are many designs to choose from, and you should certainly find a pair of riding boots that look great too!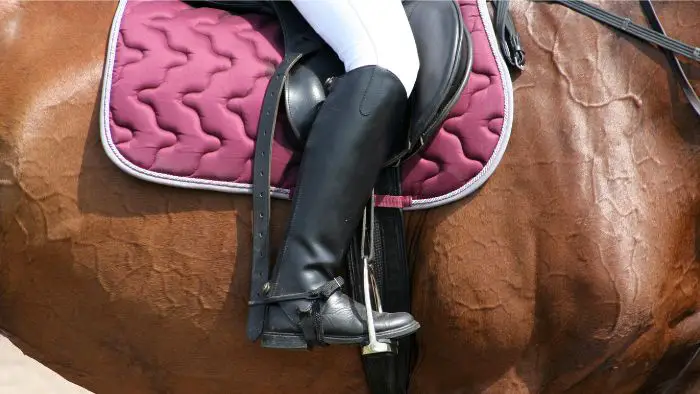 Reason Why You Need Boots When Riding A Horse
Wearing the proper shoes for a job is important. Safety is the number one reason you should wear riding boots when riding a horse. Most workers and athletes wear footwear appropriate for their job, and horse riding is no different. 
When you're around or on horses, you should wear boots. Horses are big, and the risk of a severe injury is real when you're wearing something like flip-flops. Hiking or snow boots also aren't good choices since they typically have broad toes and heavy, thick treads, making it difficult to slide through the stirrups.  
Boots with smaller treads, a heel, and a smaller toe area work well for riding.
Long Boots vs. Short Boots
There are many factors to consider when choosing the appropriate footwear for horse riding. Your personal preference and the riding style are only two. There are more elements to consider, like the boots' length.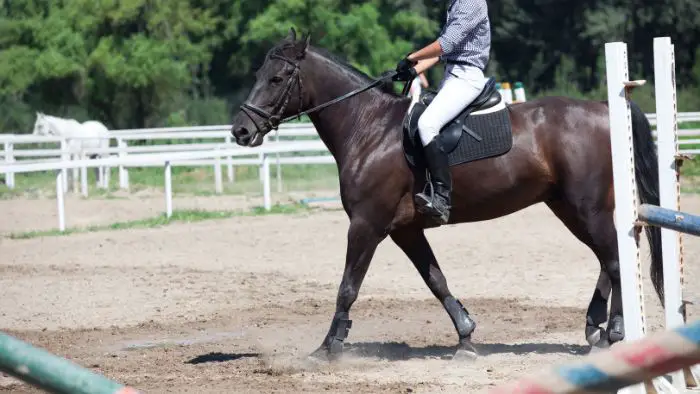 Long Horse Riding Boots
Long boots are a more formal style. Traditionally, they were worn in the British style of horse riding. They were designed to make a rider's legs look longer.
Today, these boots are typically used in competitions, but some riders prefer them for everyday use too. Long riding boots offer more protection against chafing and pinching. Wearing long boots can also encourage better riding, as they restrict the feet from moving and wiggling.  
Long boots do restrict flexibility when doing on-foot yard duties, although they will be warmer in cold weather.
Short Horse Riding Boots
Young riders perform better in competitions and on-foot yard duties when wearing short boots. These boots offer more freedom of movement. Unfortunately, they also provide less support and protection in the saddle. 
Short riding boots are best worn with gaiters or chaps to provide the needed protection. These boots are an excellent choice for warmer months.
Wearing Regular Boots To Ride A Horse
Regular boots are not recommended footwear for horse riding. Some traditional boots may be acceptable if made from the correct material and if it gives proper protection. Choose a boot made from leather, with a thin toe and tiny treads, as well as a heel.  
The most important thing to remember is safety and comfort. Fashionable boots that look pretty are not a good choice, as they may be uncomfortable and offer no protection.
In Summary
Riding boots offer protection, and if they fit comfortably, you can be a better rider wearing them! You should carefully choose your horse riding boot based on what you need, what is comfortable, and what will work best for your riding style. 
I hope this article gave you tips for making a better decision when shopping for your first pair of boots! If you have more questions about which horse riding boots will work best for you, ask them in the comments.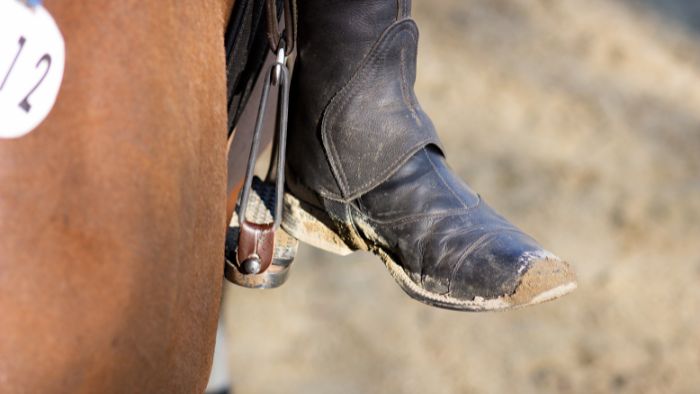 FAQs
Can you ride horses in boots?
Yes, you can.
In fact, it's recommended that you always wear boots when riding a horse. Boots offer protection, and if you have the right fit, they can help you ride better.
Are long or short boots better for horse riding?
The length of your riding boot will depend on your riding style. Typically, long boots offer better protection, while short ones give you more freedom to move.
What is the difference between paddock boots and riding boots?
Paddock boots and riding boots both work great and offer protection. Paddock boots are generally cheaper, making them a better choice for everyday riding and barn duties. Long riding boots have a higher price tag, and most are specifically designed for the riding style they're used for.
Why do people wear boots to ride horses?
Boots offer protection when riding a horse. You risk injury to yourself or your horse without the proper riding boots.