Last Updated on April 26, 2022 by Cristina
Just like you and I, horses also get to deal with bodily pain. Horse ointment for pain soothes whatever bodily pain they may have. Unlike you and I, they can do nothing to help their situation. That is why you're there: a horse relies on you to make the pains go away. 
Horses are among the most unlikely animals to accept oral medication without more than a fuss. So, let's go for the easier option: topical solutions. Horse ointment for pain is easy to apply on the horse and its healing properties can soon come into effect.
This article is written to answer some questions regarding horse ointment for pain, how they work, and to ensure your horse gets the best out of them.
How Horse Ointment For Pain Works
Apart from wounds, whenever blood cannot freely flow to a particular area of the body, numbness and pain are the results. 
What a horse liniment, which is a special kind of ointment, does is speed up the flow of blood throughout the body, thus averting the stiffness and soreness that can cause pain. Horse liniments are the most ideal topical solution for your injured horse.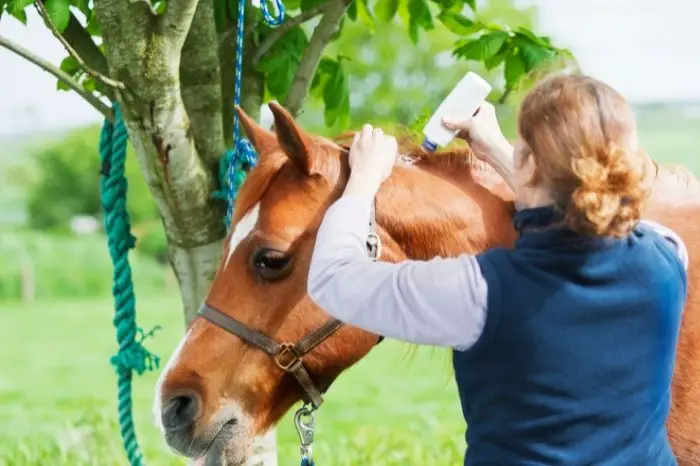 The best horse ointments for pain contain menthol because it opens up the pores and cools the body while delivering a soothing effect. Menthol also helps to relieve swelling.
What To Consider Before Using Horse Ointment For Pain
The purpose of using liniments is to bring relief to aches and pains usually caused by strained muscles and arthritis. The product label reveals in what form a horse liniment comes, whether lotion, gel, oil, or some other form.
Types Of Liniments
It is important to point out here that the liniments you see are not all produced to do the exact same things, so, it is best to check out the label to see what they are marketed as. But generally, a horse liniment is applied to the skin to bring relief from pain.
Any horse liniment with this tag is safe to use on minor scrapes and cuts. The topical antiseptic will prevent infection and manage the wound to facilitate rapid healing. Some other antiseptic liniment can help relieve swelling and soreness caused by exertion. Some can also relieve pain in joints. Topical antiseptic can be used in certain horrible lesions such as summer sores too.
No matter how superficial an open wound or cut is, it is not advisable to use a topical analgesic on it. While the ingredients contained in them have pain-relief properties, they also tend to sting on an open cut. The most common ingredients are menthol, capsaicin, eucalyptus, mint oil, and camphor. 
COAT DEFENSE Trouble Spot Drying Paste for Horses
The warmth from these ingredients is beneficial for soothing arthritic joints. Topical analgesics are perfect for use on a horse before a workout session and even after to ease the muscles in the shoulders, loin, and back of your horse. 
When To Apply Horse Ointment
Horses are not as vocal as humans, so alerting you when they start feeling pain may not be possible. However, applying horse ointment for pain at certain times will go a long way in soothing the horse and preventing pain. And if they happen to already be in pain, you will be able to fix the problem.
Liniment is applied to the skin to bring relief from pain.
After An Intense Workout Session
You can choose to simply apply horse liniment on your horse's knees and rub it down. First, gently rub the hair up and then massage the lotion or gel in by rubbing it down. 
After applying the horse liniment, you can use a breathable wrap to keep your horse's legs warm for a longer time. Just be sure that the preferred horse ointment for pain won't cause your horse's legs to blister.
After an intense workout session, instead of just concentrating on the legs, you can also choose to give your horse a full-body rundown. To do this, dilute the horse liniment with water for a liniment bath.
The bath will speed up blood flow throughout the body. This will offer a quick recovery from the hard workout and ensure that the horse is in top form the next day. liniment is applied to the skin to bring relief from pain.
When your horse is confined, it isn't moving around. This immobility is sure to cause the joints and muscles to stiffen. And this is a good time to use the horse ointment for pain in your cabinet. Apply the liniment on your horse to increase blood circulation in the muscles and joints and prevent the hind legs from stocking up.
Before applying horse liniment to your horse, be sure to read the directions on the product's label. You may save your horse from skin irritation when you follow a label's direction to not apply the liniment beneath saddle areas just before riding.
Horse Liniment – A Good Choice For Pain?
Horse liniment is good for pain, thanks to its natural menthol and huge herbal extract. It eases soreness, loosens stiff muscles, and relieves pain.
Using Horse Liniment For Arthritis
Horse liniment can be used to treat arthritis pain in horses. Older horses often suffer arthritis from all the years of movement and hard work. Horse liniment has a penetrating warmth that offers soothing relief to the joints of horses.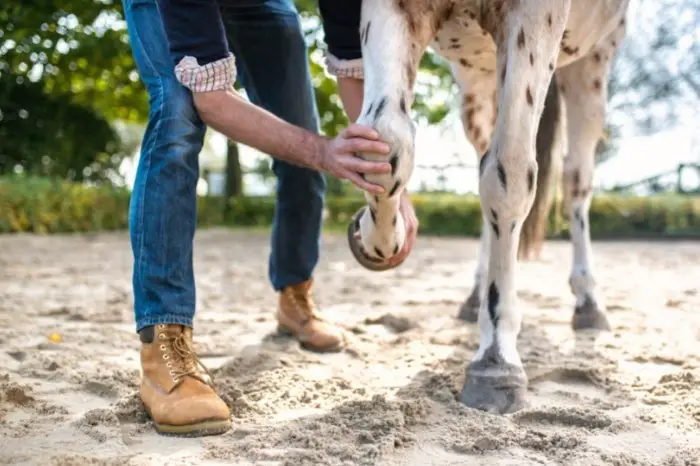 Conclusion
Because your horse cannot communicate with you verbally, its natural response to pain is lameness, and that gets your attention. You can help relieve the pain by applying horse ointment for the pain to the affected area.
But first, just be sure to read the label to know if it is a topical antiseptic liniment or a topical analgesic. That will inform you on whether to place it on an open cut if there is any.
Read the directions on the label to be certain about how and where to apply the particular horse ointment for the pain to bring maximum relief to your horse.
Did this article answer all your questions about using horse ointment for pain? Let me know how this has helped your horse in the comment section. And yes, your questions are welcome.
FAQ's
Can I use Biofreeze on my horse?
Biofreeze is one of the best analgesics out there. It acts fast to ease soreness and relieve pain. In addition to working wonders on the human body, you can use it on your horse in a situation where you can't get your hands on horse liniment. However, be careful when using Biofreeze on your horse's legs, so it doesn't rub its face against either leg and then gets some menthol into its eyes.
Is horse liniment stronger than Biofreeze?
Because of its composition, horse liniment is stronger than human analgesics, including Biofreeze. I am, however, not recommending that you use horse liniment on humans or Biofreeze on horses.
Is horse liniment good for pain?
Horse liniment is good for pain, it provides fast and soothing relief to pain. Most liniments also kill germs, help your horse prepare for a workout, and also aid recovery after working out.
Can you use horse liniment for arthritis?
Liniments offer soothing relief for horses, especially old arthritic horses. Be sure to offer a massage on the affected area.