Last Updated on October 18, 2021 by Cristina
Some horses are easier keepers than others. For those that struggle to gain weight, the best weight gain supplement for horses can make a huge difference. They provide horses with additional calories from fat in order to support healthy weight gain.
Though senior horses are often the most common age group that needs weight gain, horses of any age and performance level can struggle with it. Sometimes hay and grain/feed are simply not enough for some horses to maintain a proper weight. With the right supplement, your horse can maintain a healthy diet and weight.
How to Choose a Weight Gain Supplement for Horses, What you Have to Consider
Before putting your horse on a weight gain supplement, it is best to discuss your horse's health first with a veterinarian. They can assess if your horse is receiving a proper diet and make sure there are not any serious underlying causes that are leading to your horse being underweight.
Some causes of weight loss in horses can be serious and need to be properly addressed. Weight loss can be caused by parasites, disease, ulcers, pain, and dental issues. In other less serious causes, it may be age, stress, metabolism, and social problems.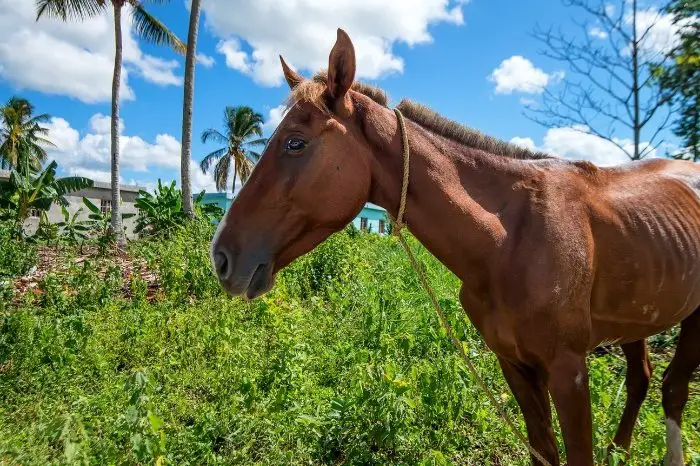 When shopping for horse supplements for weight gain, look for options that are low in sugar, high in fat, and have essential vitamins and minerals. Look for options that contain rice bran and flaxseed, as the supplement should have proteins and fibers.
What Are the Advantages Of Using Horse Weight Gain Supplements?
Weight gain supplements can help horses put on weight in a healthy way without drastic changes to their diet. They can be fed with concentrates and contain healthy fat to provide additional calories. You can easily feed them according to your horse's needs, as they come with convenient measurements.
Weight gain supplements work to provide healthy weight gain without causing digestive upsetness in horses.  They also promote a healthy and glossy coat while promoting a balanced energy level.
Though feeding additional grain and other concentrates can work to provide the extra calories a horse needs, it does come with setbacks. Too much grain can cause digestion problems in some horses and can also give them too much energy. Weight gain supplements are a great way to prevent digestive problems and provide appropriate energy levels.
In addition, they are also palatable and can easily be mixed into concentrates. They are a great addition for horses that are picky eaters.
Things To Look For In Horse Weight Gain Supplements
When shopping for horse weight gain supplements, look for options that are high in fat, while also containing omega-3 fatty acids, vitamins, and minerals. Ideally, you also want to stick to options that are low in sugar and contain ingredients such as flaxseed, rice bran, and vegetable oil.
The supplements can also come in powder or liquid form. Both work equally well, however, some horses do have a preference for one over the other.
Read more about Best Natural Fly Spray For Horses
What Is The Best Way To Use This Product?
Weight gain supplements should be mixed into your horse's grain/concentrates. It should be fed once or twice a day according to your horse's need. Be certain to follow the instructions on the product to ensure you are feeding the proper amount to your horse.
Prerequisites To Using A Horse Weight Gain Supplement
Before using a weight gain supplement, make sure to choose one that is appropriate for your horse's needs. Be certain to feed according to your horse's weight and needs in order to ensure it will be effective. It is important to follow the feeding instructions based on the manufacturer's guidelines.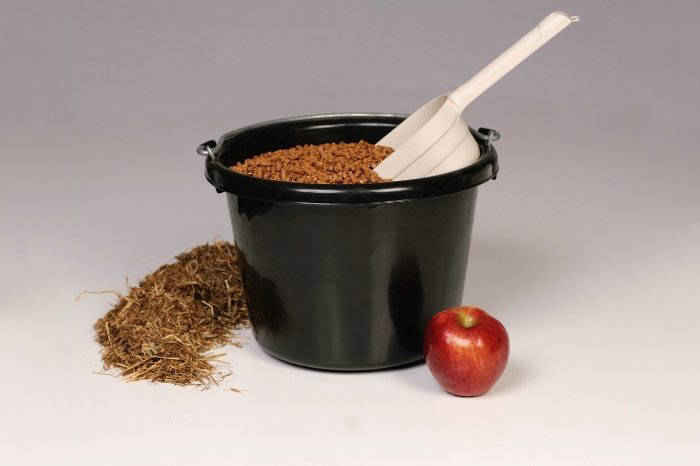 Best Horse Weight Gain Supplements
Containing 99% this supplement is an excellent addition for any horse that is difficult to keep weight on. It has more than two times the energy of carbohydrates, which helps provide an overall healthy diet. It even contains fatty acids that are beneficial for healthy skin and a glowing coat.
Pros:
Provides focused energy for performance horses.
Contains 99% fat as well as beneficial carbohydrates and fatty acids.
Easy to mix into feed.
Con:
It is on the pricey side.
Whether for seniors, performance, mature or underweight horses, this supplement helps horses achieve and maintain an optimal weight and body condition. It is rich in omega-3 fatty acids, fats, and calcium to promote overall health. It helps promote healthy skin and a shiny coat while providing balanced energy.
Pros:
Contains no added sugars.
Contains flaxseed meal and stabilized rice bran.
Formulated with 50% fat to provide a concentrated source of calories.
Con:
Specifically formulated for senior horses, this weight-building supplement is high in fat and calorie levels to promote weight gain and overall body condition. It contains probiotics to support proper digestion along with biotin for hoof growth. Omega-3 fatty acids promote healthy skin and a glowing coat.
Pros:
Contains essential vitamins and antioxidants to support a healthy immune system.
Extremely palatable and easy to feed.
Ideal for senior horses that struggle to keep weight on.
Con:
For horses of all ages and activity levels, this supplement allows for healthy and efficient weight gain. With powerful probiotics and prebiotics, it works to heal horses' guts and help them get the most out of their feed. It contains vitamins and minerals that promote a healthy coat and overall health.
Pros:
Contains full oil soybeans.
Promotes weight gain and maintenance along with a healthy gut.
Contains beneficial proteins, fats, vitamins, probiotics, and prebiotics.
Con:
Made with soybean and coconut oil, this supplement provides healthy fat and a cool-calorie energy source for weight gain and maintenance. In addition to weight, it also keeps hooves nourished as well as moisturized by supporting the waterproof barrier. The Omega-3,6 and 9 fatty acids provide healthy skin and a glowing coat.
Pros:
Avaible in liquid or granule.
Ideal for horses of all ages and activity levels.
Helps with weight gain, hoof health, skin health and overall condition.
Con:
Using the oil can be messy.
Conclusion
Though all these options make a wonderful choice for a weight supplement, the best weight builder for horses is the Uckele Cocosoya Oil, Fatty Acid Formula for Horses. Unlike the other options, it comes in both liquid and powder options. In addition, it is also the most affordable supplement of the options above.
The Uckele Cocosoya Oil, Fatty Acid Formula for Horses helps with weight gain for horses of all ages. In addition, it also helps with hoof, coat, and overall health.