Last Updated on January 13, 2022 by [email protected]
Joint supplements keep your horse moving and active, free from pain and stiffness. The best equine joint supplement for horses will help your horse perform at its very best. They are a good choice for horses that struggle with joint pain and stiffness.
Horses of different ages and work levels can benefit from having a joint supplement. Joint supplements can improve the performance and flexibility of a horse. They can be a beneficial addition to the diets of many horses.
How To Choose The Best Equine Joint Supplement For Horses, What You Have To Consider
Joint supplements are commonly used in older, arthritic horses or top-level performance horses. They work to reduce pain, inflammation, and stiffness in joints to help keep horses active.
One of the leading causes of discomfort, disability, and loss of function in horses is a joint disease (osteoarthritis, OA). Sudden joint inflammation that is severe with pain, heat, and stiffness is known as acute arthritis. Long-term joint inflammation, on the other hand, is chronic arthritis.
If you notice your horse is stiff and uncomfortable or has inflammation, using a joint supplement can be beneficial. However, it is always important to make sure there is not an underlying injury or serious issue causing joint problems in your horse. It is always best to check with your veterinarian before starting your horse on a new supplement.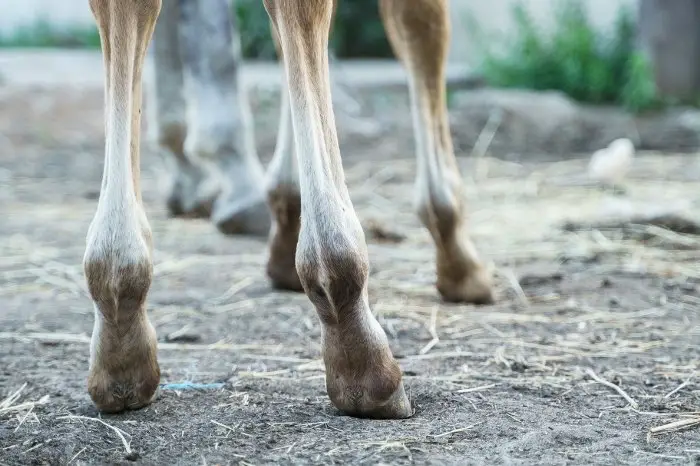 Joint supplements come in liquid or solid forms, both of which work equally well. Joint supplements can be for horses of different ages and work levels or specifically for senior horses.
What Are The Advantages Of Joint Supplements For Horses
Joint supplements can have many advantages for horses. Even if your horse hasn't shown any joint problems, they can still help your horse stay active and moving for long periods of time while protecting a horse's joint. They can be an essential addition for top-level working or show horses to reduce downtime from injury or soreness.
Joint supplements are also a beneficial addition to a horse already dealing with pain, stiffness, and inflammation. In addition,  joint supplements for horses with arthritis can help reduce and ease the side effects of arthritis. They can help keep your horse active and comfortable no matter their work level.
Things To Look For In Horse Joint Supplements
When shopping for joint supplements, look got for options containing Glucosamine, MSM, Hyaluronic acid (HA)
and Chondroitin. These ingredients reduce pain and inflammation while also promoting healthy, strong joints.
MSM is an important ingredient as it increases blood flow and reduces inflammation. Glucosamine works to support cartilage while helping to maintain inflammation due to exercise and overexertion. HA helps with lubrication and viscosity in joint fluid.
Chondroitin works to promote the production of cartilage while slowing the breakdown. This helps to relieve swelling from overexertion or exercise.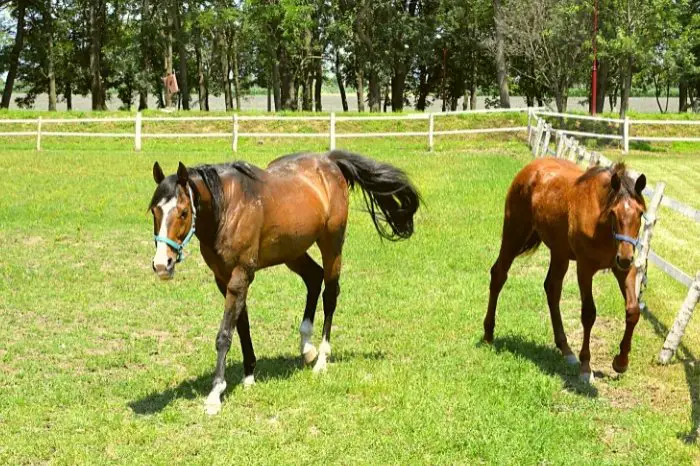 In addition, you also want to look for supplements that contain omega-3 fatty acids and vitamins. They are both beneficial to not only joint health but also the overall health of a horse. They are also beneficial ingredients, particularly for horse arthritis supplements.
What Is The Best Way To Use Joint Supplements?
Joint supplements should be given with concentrates when fed to horses. Be certain to carefully read the label of the supplement to ensure you are giving the proper amount to your horse. You should only give one joint supplement to your at a time and be sure to be patient, as it may take time to see results.
Prerequisites To Using This Product
Before using a joint supplement, make sure your horse is receiving a healthy, balanced diet. In addition, make sure your horse receives regular hoof care and proper warm-ups and cool-downs when exercising. It is also a good idea to check with a veterinarian or equine nutritionist to make sure a joint supplement is right for your horse and there aren't any underlying issues causing joint problems.
What Is The Best Horse Joint Supplement?
This supplement not only works to provide joint support in horses but also dogs and cats. It contains MSM which works to reduce inflammation and pain while promoting healthy joints. It is easy to give, as it comes in an odorless formula.
Pros:
Safe for horses, dogs, and cats.
Contains beneficial MSM.
Odorless and easy to mix in.
Con:
Some animals may be picky about the taste.
This highly concentrated supplement helps strengthen joints and connective tissues. It contains glucosamine, MSM, chondroitin, HA, and Boswellia serrata, along with flaxseed and rice bran. With a special low molecular weight chondroitin formula, it enhances "bioavailability " in the cartilage in your horse's joints.
Pros: 
Contains glucosamine, MSM, chondroitin, and HA.
Enhances "bioavailability "in joints.
Highly palatable and increases mobility and strength.
Con:
It is a more expensive option.
As a popular choice among vets, this supplement contains MSM and chondroitin, along with beneficial avocado/soybean unsaponifiables (ASU). Its specific glucosamine hydrochloride and low molecular weight chondroitin sulfate create synergy in stimulating cartilage matrix production. In addition, the ASU also acts synergistically with glucosamine to heal and promote healthy joints.
Pros:
Contains MSM, chondroitin, and ASU.
Highly palatable and apple-flavored.
Provides broad-spectrum joint support.
Con: 
This joint supplement works to promote joint support and improve blood circulation, particularly for senior horses and dogs. It contains MSM to promote healthy joints. It comes in a white crystalline substance that is odorless and mostly tasteless.
Pros:
Safe for dogs and horses.
MSM promotes joint support and improves blood circulation, especially in senior horses.
Odorless and easy to feed.
Con:
The packaging can cause spills.
Ideal for horses and dogs, this liquid supplement contains glucosamine, chondroitin, perna mussel, Ester-C, and MSM. The unique bromelain enzyme solution works to absorb quickly as well as digest easily. It works to improve joint health while reducing inflammation.
Pros:
Contains glucosamine, chondroitin, and MSM.
Bromelain enzyme solution is fast absorbing and is easy to digest.
It is safe for horses and dogs.
Con:
It is expensive and can be messy.
Conclusion
Though all of these supplements can improve joint health and performance in horses, Nutramax Cosequin ASU Equine Powder comes out as the winner. As the best equine joint supplement for horses, it is the only option to contain ASU in addition to MSM and chondroitin. The apple flavoring is also highly palatable for even picky horses.
Nutramax Cosequin ASU Equine Powder works powerfully to reduce inflammation and discomfort while improving mobility and joint health. It contains high-quality researched ingredients and is trusted among veterinarians.